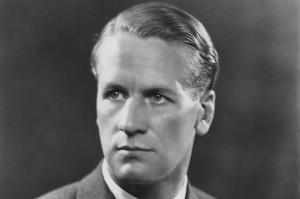 The reputation of Douglas, the 14th Duke of Hamilton, was tainted by suspicion
Hulton Archive / Getty Images
He was a Scottish icon: the first man to fly over Everest and an amateur boxing champion with the chiselled good looks of a John Buchan hero. However, for more than 70 years, a cloud has hung over the name of Douglas, 14th Duke of Hamilton and sometime MP for East Renfrewshire.
Despite his sporting prowess and remarkable flying exploits, the duke's name is forever associated with one of the most mysterious episodes of the Second World War — the abortive mission of Rudolf Hess, Hitler's deputy. On May 10, 1941, Hess made a doomed solo flight from Germany in an attempt to broker peace with Britain, parachuting to the ground at Eaglesham, south of Glasgow, after his plane ran out of fuel.
The man he had flown to see, and near whose house he attempted to land, was Hamilton. In the immediate aftermath of that extraordinary event, newspapers speculated that the duke himself had links with Hess, and might even have been the intermediary between him and those in Britain who wanted an end to the war. Since then, several books have suggested that, far from being a lone venture, Hess's flight had been prearranged and Hamilton had been expecting him.
Now the author Mark Peel, who has had access to intelligence documents, family papers and archives in the royal collection, has published a book that argues that Hamilton was not only innocent of any involvement, he knew nothing in advance of Hess's flight.
"Any suggestion that somehow the duke was collaborating with Hess or that he was a fascist sympathiser has simply no foundation," he says. "His record on the campaign trail shows that this was not a man who would have had anything to do with the politics of hate or fear." The new evidence, he writes, "dismisses for all time the idea that the duke was engaged in some dastardly plot to undermine his country … The world of political intrigue and international diplomacy was not his forte; he was a straightforward man of action and adventure."
The allegations hanging around Hamilton's name have centred on his attendance at the Berlin Olympics in 1936, where he was said to have met Hess, and his friendship with Albrecht Haushofer, a foreign policy adviser to the Deputy-Führer. At the start of the war, Haushofer wrote him a remarkable letter urging peace. Hamilton showed it to Winston Churchill, who commented that war was inevitable. Later, however, Hamilton wrote a letter to The Times that spoke of the need for "a healing peace between honourable men". The letter, admits Peel, "while well-intentioned, was injudicious, prone to misunderstanding to friend and foe alike".
In 1940, after the outbreak of war, Haushofer, at Hess's request, wrote another letter to the duke, proposing a meeting in neutral Lisbon. It was intercepted by the British censor and sent to MI5. Hamilton did not see it at the time and was only shown it the following year. The proposed meeting never took place. Finally, at 5.45pm on Saturday, May 10, 1941, Hess took off from Augsburg in Germany, at the controls of an Me-110 fighter plane, personally adapted for him by its designer, Willi Messerschmidt. He flew over the North Sea, relying first on a radio compass and thereafter on visual pilot-navigation — "a remarkable feat of navigation", writes Peel. He managed to evade two Spitfires ordered to intercept him and, at 10.45pm, flew over Hamilton's home at Dungavel, which had a small airstrip. Hess missed it and, running short of fuel, baled out at 6,000ft. He had never parachuted before and had to roll the aircraft over on its back to eject. He came down near Eaglesham at 11.09pm, injuring his ankle. The aircraft crashed in open moorland north of the village.
There has been much speculation about the apparent ease with which Hess managed to evade Britain's air defences. Another historian, Peter Padfield, whose book Hess, Hitler and Churchill is also published this autumn, argues that some elements in British Intelligence were aware in advance of Hess's plans and may even have encouraged them.
He claims that Hamilton, who was based that night at RAF Turnhouse — now Edinburgh airport — where he was station commander, also knew of Hess's plans and took no action to intercept his aircraft. Peel says there is no evidence to support that claim. He writes that Hamilton was aware that a lone German aircraft had entered British airspace but as it did not penetrate his sector "the decision was not his to make". When told that the aircraft had crashed and that its pilot wanted to see him, he went to bed, deciding that the interrogation could wait until the morning. "Had Hamilton known it was Hess, he might well have left for Glasgow immediately," writes Peel.
Hamilton met Hess the next morning at Maryhill Barracks in Glasgow and listened as the Nazi outlined his peace proposals: Hitler, he said, would allow Britain to keep its Empire possessions and its Armed Forces, provided Germany was given primacy in Europe. He wanted Hamilton to introduce him to the "peace party" in Britain.
Hamilton responded that there was only one party, that of Churchill's Government. Then, having ordered that Hess be moved to a secure location, he set off to inspect the crash site before flying to London to report personally to Churchill on his astounding encounter.
From this point on, speculation shifts from Hamilton to the British Government and the way it handled the Hess affair. Some historians continue to argue that British intelligence knew more than they have admitted about the Hess flight, and Padfield suggests that his peace plan had to be suppressed because it would have proved too attractive to those who supported negotiations with Germany. He points out that the full proposals — which Churchill called "controversial" — have never been published. Peel dismisses this. MI5's response to Hess's arrival was "shambolic", he says, and nothing suggests that Churchill wanted to suppress the news about Hess — he intended to make a statement to the Commons, but was dissuaded by his ministers. Above all, Peel says, Hamilton was innocent of any involvement. MI5, which investigated his role, fully exonerated him, and he himself brought, or attempted to bring, several libel actions against newspapers that impugned his integrity. Hess later admitted that he had never met Hamilton in Berlin.
The Hess affair, however, remains a mystery. Even his apparent suicide in 1987, in Spandau prison, where he was the only prisoner left, is surrounded by controversy. Why he flew to Britain, who knew about it and what might have happened if the truth had come out, remain the most intriguing unanswered questions of the war. A man of action and adventure.
Magnus Linklater
Published at 12:01AM, October 26 2013
The Patriotic Duke by Mark Peel is published by Thistle Publishing
Douglas-Hamilton, Marquis of Douglas and Clydesdale, became 14th Duke of Hamilton in March 1940 on the death of his father