Ambassadors of Goodwill:
MCC tours 1946/47-1970/71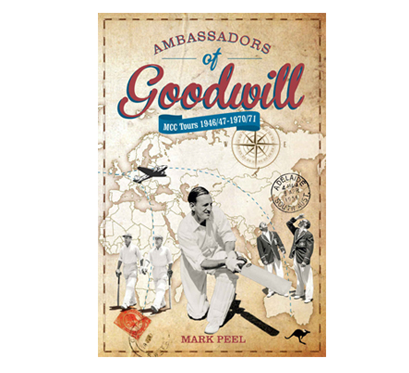 Since Victorian times, the MCC had embraced the amateur ideal that cricket was more than a game. It was the very essence of camaraderie and good sportsmanship. Yet for all their evangelising, the game's privileged elite were part of a British establishment which revelled in its national prestige and imperial hegemony. And winning at cricket was essential to maintaining that stature. Ambassadors of Goodwill assesses the MCC's attempt to marry these conflicting objectives and foster goodwill within the Empire via long, formal overseas tours. After the war, the amateur ideal suffered when Len Hutton was appointed England's first professional captain.
His uncompromising leadership brought success on the field but discord off it. Managers were installed to restore diplomatic harmony but, with the growing upheavals of the late 60s, cricket became increasingly associated with nationality, race and professional cynicism. Ray Illingworth's controversial win in Australia in 1970/71 clearly signalled the MCC's waning influence.
Review
Anyone with an interest in the game will enjoy Ambassadors of Goodwill. For those already familiar with these tours who have read some of the books about them it is interesting to see all the strands of the stories drawn together. For those relatively new to the subject it contains a fascinating story of how cricket tours fundamentally changed in the years after the Second World War. Either way the book is highly recommended.
Cricketweb