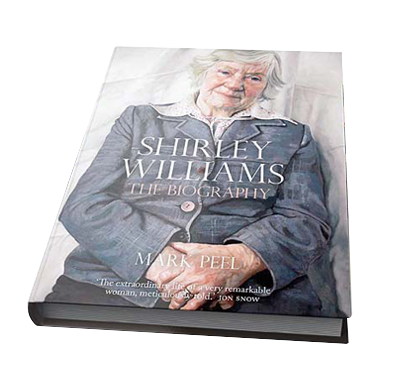 The daughter of the eminent writer Vera Brittain, Shirley Williams inherited her parents' socialist ideals from an early age and by the time she came down from Oxford in 1951 she was being touted as the country's first female prime minister.
A brilliant communicator and campaigner, Shirley entered Parliament in 1964 as MP for Hitchin and was soon appointed Minister of State at the Department of Education where she helped usher in comprehensive education.
When Labour returned to office in 1974 she was promoted to the Cabinet but failed to leave her mark at education between 1976-9 chiefly because of an inability to take important decisions.
Losing her seat in the 1979 election, Shirley fought a losing fight against the extreme left in the Labour Party and defected with several others to form the SDP in 1981. Winning a spectacular by-election at Crosby later that year, she lost it two years later as the SDP proved unable to effect a historic breakthrough.
Now a leading figure in the Liberal Democrats, she has remained something of a national icon, respected for her common sense and integrity, some consolation for a career that never fulfilled its early promise.
Reviews
"Mark Peel has given the reader a most perceptive insight into the personality of someone who is probably the UK's favourite politician, but combined it with an equally comprehensive account of the political events which have shaped her career and her influence over them"
Sir Menzies Campbell MP, former leader of the Liberal Democrats
"Mark Peel, an experienced biographer, offers fresh insights into Shirley Williams's public and private lives in a readable and perceptive account. He explains both her long-lasting popular appeal and also why she did not achieve more as a minister and politician"
Rt Hon. Peter Riddell CBE, Director of the Institute for Government
"Nearly everyone possessing an interest in British politics has a certain idea of Shirley Williams a constant and distinctive presence in public life for half a century. They will know her far better once they have finished Mark Peel's fascinating, fine and sensitive biography"
Lord Hennessy, Attlee Professor of Contemporary British History